Fashion Rules for Grooms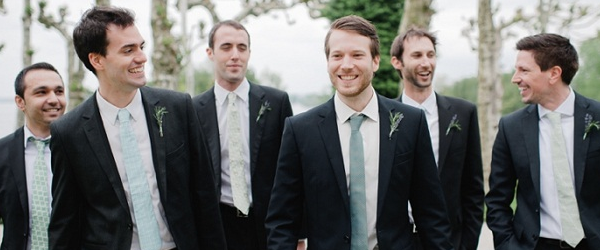 Having found Miss Right, and with luck and perseverance, you're going to be married for many years and have lots of kids, grand kids and yes, even great-grand kids to dote upon.
So getting married shouldn't be a quick rush to a judge or a minister who can perform a perfunctory ceremony and send you off into the unknown.
Marriage is more than just a legal entanglement. Marriage is commitment to a person you love and respect, and as such, the actual marriage itself should be a day to remember.
Of course one way to do this is to do something outrageous, and that's probably all right for those who like to live on the edge, but for most of us, a more traditional wedding is in order.
A wedding can, of course, be a large event with many guests attending. Wedding planners can set everything up for exceptional events. But for others, a smaller ceremony is in order, yet even there, we should never forget this is a special and hopefully, once-in-a-lifetime occasion. So it's not a day to show up in jeans and sneakers.
On the other hand, the formality of the occasion should help determine the attire you will wear. If the wedding ceremony is to be intimate, it may not be necessary for you to go all-out on a fancy tux with a ruffled shirtfront. A simple dark suit and tie should be acceptable. But for a larger, more formal affair, a groom should seriously consider more formal attire.
Today, few people have formal wear in their closet; the occasions for formal wear are usually far apart and the next time a tux might be needed, it may no longer fit properly.
Rental of formal wear isn't really expensive and a good shop can help to assure you that your clothing will fit properly and help you look your best. Every sort of formal wear can be found, and some of it, in itself, is pretty outrageous. Depending on the situation and your friends and relatives, you may opt for a very light, powder blue suit or something similar. These are usually accompanied by a matching tie and appropriate shirt. For a more conservative look, a traditional black tux would be better suited to the occasion, and if the occasion is really large with many guests and of course a photographer to record every moment of the event, you might go so far as to really look outstanding in white-tie and tails. That is the ultimate in high-fashion men's wedding attire.
However, an important point to bear in mind is that you want to be certain to coordinate your wedding outfit with the attire your lovely bride will be wearing. While it's considered bad luck to see the bride in her dress just before the wedding, you should have been able to see the actual dress at some time before.
Is it going to be casual, or very formal? You certainly don't want any unpleasant or embarrassing surprises at the last moment when you come out in white tie and tails to greet your bride who's wearing a light summer frock with a floral pattern.
When at the shop being fitted for a tux, your tailor should be able to help you decide on the style too that will make you look your best. If you're very thin, a double-breasted jacket may help give your silhouette more bulk, while on the other hand, a heavier person might want something that can make him look as slim as possible. A good tailor can be very helpful and instructive when it comes to style and appearance.
Another important and often forgotten item is the shoes a groom may wear. Patent leather is the norm for formal wear, but when wearing a business suit, leather shoes should be worn. Any sort of sneakers or other shoes shows a definite lack of good taste and can ruin all your other attempts to show yourself off at your best. Black shoes are a bit more formal, but brown leather shoes may be worn with any but the most formal wear.
One last bit of advice is that while others, the best man, etc., may be wearing similar attire, you want to set yourself a bit apart. After all, this is your day. Perhaps you can find a boutonnière, or you could wear a vest of a different color than the others. Or if you have an area of interest that can be displayed by a small pin, you might attach that to your boutonnière. If you're a chef, you can pin on a tiny chef, or a musical clef for a musician.
Good luck and make your wedding the best day of your life!