Dress Coding: Bridal Shower Attire
Weddings have a certain knack of sending us all into a very excited and dreamy state. Excited because our loved one is on the way down the aisle and Dreamy because well, weddings are all about love and a happily-forever-after. The bride-to-be owns the spotlight and we do everything in our power to ensure that she feels loved, supported and pampered all the while.
Usually there are a couple of customary occasions carried out before the bride-to-be ties the knot. These depend purely on what the bride-to-be wishes to celebrate. They may include a bachelorette, bridesmaid luncheon and of course the bridal shower.
The bridal shower is held a couple of months before the wedding and is attended by family and friends. It may seem a bit confusing on deciding the appropriate attire as it includes youngsters along with the older crowd unlike a bachelorette or bridesmaid luncheon. If the bridal shower is being held at a place that doesn't have a particular dress code, then your safest option here would be to pick out a lovely dress like shift or fit and flare. After all, you can never go wrong with these classics. It gets you looking classy and fun at the same time.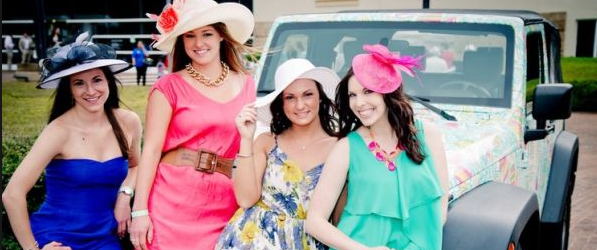 On the other hand, you may most probably be aware of the nature of the bridal shower. It could be a casual get-together in a backyard by the pool or it may be a bit formal-ish at fancy restaurant. No matter where it may be held, the number one rule here is to never one-up the bride-to-be. This would mean staying away from whites and even creams as the bride-to-be is most likely to sport this colour at her bridal shower.
If the shower is more of a casual one, then a sundress would look perfect. It's very casual and definitely very girly. If you aren't a dress person, then a cute pair of shorts with a strappy top and some jewelry would definitely make you stand out without drawing away the attention from the bride-to-be. For a little fancier shower at a restaurant or country club, a nude top teamed with a printed skirt would give you a very elegant and sexy look. If you love pants, then pairing it with a detailed strappy top would definitely highlight your figure and may even set you apart from all the other pretty dresses at the bridal shower. While you now might be certain of the look you are going for, you still need to keep a few more points in mind. Besides saving the colour white for the bride-to-be, there are still some things you need to avoid. Minimize the amount of bling you put on especially if the bridal shower is during the day. This would steal the attention away from your clothes and make you look like you're trying too hard. If you are a girly girl and love wearing short dresses and well cut tops, you should realize that there is fine line between sexy and easy. And ,obviously the latter isn't the one you're looking for. So remember steer away from plunging necklines or super short skirts.
Keep it stylish!